For more current comments from customers please visit Trip Advisor or Facebook.
---
Hi Judy,
We had a wonderful time. Yasser is an amazing diver/tourguide. Both he and Jorge were so pleasant and just couldn't do enough for us.
I'm so glad we booked our diving trip with you.
Thanks!
Trish and Tom McArthur
September 2013
---
Hi Judy,
Yes, we had a great time that surpassed our expectations. Cozumel diving is excellent, especially when you have a dive master like Carlos that really knows the prime diving spots slightly away from the armadas of dive boats that are at some sites. We B Divin' is a class company with topnotch staff. Everyone one we met truly had the attitude that they were there to ensure our experience was A one.
It started out a little sketchy for the first two days when we were using other boats, but was better than expected once we got on your boat and Jorge as the skipper. We were lucky enough to dive most of the week with Raul. He was great both above and below the water.
Our twilight and night dives were a true experience. We dove with Brian and Caroline, Raul and Carlos. We'd love to do the same thing next year. Yes, we are already planning on a return trip.
We will definitely do Trip Advisor and Face book entries. I will start editing video tomorrow and post some stills from that. There are other shots the guys are interested in so I will send them directly.
We will not make any comment on the boat being down. That was the only hitch in the trip. The pump failure was definitely not a result of poor maintenance. The boat is in immaculate shape. You know Jorge and Carlos would not have it any other way. But, they are mechanical and things happen. We really appreciate you setting up other boats, especially bigger ones with a head and lots of room. The boats were in OK condition but slow, especially for the trip to and from our hotel. We made a deal with Carlos that we would pay our cab to the marina if someone drove us back. We did that for the rest of the week. It worked really well for all.
Just like the Texan's we dove with said; we're hooked on We B Divin' and will be back next summer (God willing).
Please pass our thanks on to the guys,
Thanks Again,
Shelley and Brent
August 2013
BTW We can't leave you out of the success equation. Judy, you are a great dive manager. You provided quick easy to understand responses while setting up the dive plan and payment, recommended great hotels, and made sure all was ready for when we arrived. Hopefully we get to meet you in person next year.
---
Judy
I work with Gary Gerlach at Parker Police and dove with your company several years ago. We just went diving again in Mexico off Rivia Maya at Adventura. I just wanted to say that our experience want not even close in comparison to your dive company. The dive was nice, but the staff was not even close to your crew. You have a great crew and when I come back to Mexico again I will be contacting your group. I have also passed this information on to our dive shop here in Denver. They said they would add your company as a preferred dive company. I hope it will generate some business for you.
Regards,
Steve Tarr
August 2013
---
Judy -
I wanted to take a moment before we leave Mexico to thank you and Carlos for arranging an excellent time. Jorge and Yassar were knowledgeable, personable, and professional.

When we return home I will certainly let my fellow TripAdvisor members know about the wonderful gem of a company that you and Carlos operate.
Raymond
June 19, 2013
---
We sailed in to port about 10:AM got a cab and went to the dive boat. I got my gear out and they set me up with my 1st tank. We then picked up 2 other divers and made our way to the dive site. I was the last one to go in.
On my 1st ever diver from a boat, it was in open water that was rocking really good. I stepped on to the platform and found that it was a bit "slippery when wet". About the time I took my stride off the back of the boat, it rolled and I slipped. Not sure how I went in water but graceful it was not. I got to the surface spiting up water and trying to get my mask back where I needed it to be. That took a minute or two. Yasser, the dive master, helped me get my wits about me and we went down. It was beautiful. We went down with Yasser looking back every so often to see if I was ok and I would signal ok. As for the dive it was great I did not have any problems. I do need to learn how to make my air last longer though.
The 2nd dive went off with out any problems.
Not sure what all we did get to see fish wise but I know there were turtles and lion fish. I need to find a book to id the rest I have photos of.
I really want to thank you and the rest of the group that help make this happen.
Thanks again
bobby
May 2013
---
Judy –
We wanted to let you know that we had a great time in Cozumel. The boat looks and runs great. Carlos and Yasser were absolutely excellent. All of the gear worked well. The dives were awesome. Thanx for a great time. We won't dive with anyone else.
Steve and Teresa Staton
May 2013
---
Judy
We had a tremendous time and crew was excellent. 4 turtles on 1st wall dive exceeded my expectations then a very nice lunch and on and on...we were spoiled and will be back!
Thanks again for the exceedingly fine attention to detail, safety and fun!

Best,
Dan & Sara Shock
April 2013
---
Good Morning Judy,
Gwenn, Alan, and myself wanted to let you know what a wonderful time we had diving with Carlos, Yasser, and Jorge yesterday. They are absolutely fantastic!
As you know we have been diving with friends here on Cozumel for the past 10 years and we did so again on this trip, but after diving with your team on Tuesday and then again yesterday, we are absolutely stunned. Everything was perfect, Yasser is a fantastic divemaster and we probably had the best dive of the entire vacation yesterday at Palancar Gardens.
As you know it is always easy to achieve the first 90%, it is the last 10% of the details that gets you :). Well they got them. We have been converted...... it is always them small things that set you aside and wow, what a fantastic time we had.
We are already looking forward to our next trip down here, and we WILL dive with We-B-Diving. I almost asked to book another 2 tanks today, but am flying Saturday at 11 and decided to take a day off. Oh well, live and learn.
Suffice it to say we could not have had a better time.
See you soon
Martin and Gwenn
April 2013
---
Thank you! We had an amazing time! Your crew was top notch! Yasser was an excellent dive master and also a pretty good cook with his excellent tuna salad sandwiches. We are new divers and felt very safe with your crew. The other divers on the boat had been using you guys for many years now and they were great company. We are definitely going back and will be using your services again.
Andy
March 2013
---
Hey Judy,
Outside of Pop Moore having some health issues, we had an outstanding adventure! Carlos & his team were great. We look forward to making another adventure with you folks. We were especially impressed with great personal service, professionalism, and spectacular dive sites.
We are going to make a return trip in November or December this year & look forward to working with you folks again!
Oh...your boat? It was super nice, comfortable, and clean! We enjoyed every minute on it! Last, but certainly not least, were the refreshments being available at just the right times when we needed them the most!
Sincerely,
Larry "Jason" Moore
February 2013
---
Hello Judy,
My wife contacted you a few days ago about being able to accommodate me as a disabled diver.
Let me tell you the crew was fantastic! I dove with Yasser for 2 of the most controlled comfortable dives I have had in Cozumel. The crew of the Yucab III are a class act! It's also worth mentioning that we heard good things about We B Divin' Cozumel from a local freelance divemaster, that's the kind of thing you like to hear.
We will be diving with you in the future and I will tell everybody that is looking for a dive op that you can't be beat.
Thanks for that great diving,
Brian
January 2013
---
Judy,
Thanks so much for the amazing day on Cozumel. My family had an incredible time and we will for sure be coming back. The diving was INCREDIBLE and thanks to the dive master, Yasser, for ordering up the perfect marine life to see! :o) Each one of us have special memories from that day we will always remember!
Thanks again for being on top of things and bugging us as I couldn't pin the family down until the last minute and we still ended up with a sick baby my mom stayed with! I guess that's life and hopefully she will join us next time we are there! Sure appreciate your crew's amazing hospitality and service. We look forward to many dives with ya'll in the future!
Thanks again!
~Kyrsten Morgan :o)
December 2012
---
Judy,
I just wanted to get back to you this morning and give you some great feedback about your dive operation. My wife and I have been diving for 30 years, Florida Keys, Cayman, Akumal, Bonaire and Cozumel several times. Without a doubt your crew and boat were the best we have experienced!! The crew has all the ingredients of safety and fun. Unfortunately we have had some dive operations in Cozumel that were highly neglectful and basically unsafe. As you well know, diving is a fantastic sport yet can be extremely dangerous...your crew was knowledgeable about the reefs, were very patient in explaining our dives, reviewing safety issues, paid close attention to us in the water and were extremely friendly and their English was quite good. I will always use your operation when I return to Cozumel. I hope this tropical storm Ernesto won't cut our vacation short!
I am a small business owner myself and I want to congratulate you on a first class diving operation.
Craig Villalon
August 2012
---
Judy,
For the 2nd year in a row we had great diving with Carlos and Yasser! Every dive was wonderful and the guys really took care of my husband on his birthday!
I am sure we will be back with them next year! Thank you to everyone at We b Divin for running such a great operation!
Tammy & Eric Ricklic
June 2012
---
Judy
I think we are doing a deep dive and wreck dive tomorrow with navigation during a SI, then I will be doing several dives later in the week so I will have no problem getting the dives I need for AOW. I gave Yasser my AOW eLearning certificate today as well. Just let me know what else you need from me to complete my AOW cert.

It has only been 3 years since I was last in Cozumel, but somehow I had forgotten that the Yucab III is the best dive boat on the island. Many of my fellow divers are very impressed with the new ownership and management of the boat and company. Thank you for all the hard work that I'm sure it took to make a smooth transition. I wish you the best of luck in your new enterprise!

Thanks again,
Jeremy Karst
---
Hi Judy,
Yes, the guys were great. That they had this small cover safely put away was absolutely amazing. In addition, when I walked up to the boat, both Yasser and Jorge called me by name, that is great. I cannot tell you how much that means. I place a lot of value on that sort of thing.
Thanks again, see you soon
Martin
---
Hi Judy
We had an absolute blast. The guys spoiled us with their service. They took really good care of us. Rest assured we will dive with them again. The only reason we won't this time is because we had already made arrangements with our friends. Please let Carlos know that Yasser and Jorge were great. I will share the video when we get back Thanks for a great time.
Martin Gwenn and Alan
---
Judy,
Just a note to express the great time we had diving with We-B-Divin' Cozumel over spring break. Great Boat, Great Equipment, Great Dives and Great Communications. Thanks, and we will definitely use and recommend you all to our friends.
Thanks
Gary Brooks
---
Judy,
Like usual it was a fantastic trip. We had a wonderful time and look forward to another year diving with the best.. Thank the guys, they were great and attached is a photo of all of us when we went out...
Thanks again, Jaci and Bill Raab
---
Jorge, Carlos, Raul and Yasser are a great bunch of guys to hang with for a week. They provide and excellent service and are not short of fun. Sure wish we were still in Coz with you guys. Thanks for a great week!
Bryan Skaggs
---
I have dove with We-B-Diving before, in 2010. I dove for quite a few years with Tony and Suzanne also. I wouldn't consider diving with any other company other than yours. Carlos, Luis, and Yassar represent you very well and make the whole trip very enjoyable.
Tom Flynn
---
Oh my goodness!! The dives were great! Thank you so much for the wonderful hospitality. I'm attaching one of the pictures I took....which was one of the things we asked Yasser to show us, and he definitely delivered.
Danielle

---
Judy,
We really had a great time, diving was fantastic and the crew was very professional. Look forward to our next trip to Cozumel!
Best regards,
Randy
---
Hi Judy!
I just wanted to let you know about our dive trip last week. It was awesome! Our weather was perfect and we were able to get in all 13 dives we wanted for the week. We started diving right after Hurricane Rita a few years ago, and even in the short amount of time that we've been coming to Cozumel, it is amazing how much the reef has healed itself. So much life down there, and the colors are amazing!
The thing that makes the experience the best, though, is how we are treated by your crew - Carlos, Yasser and Luis. This was our third trip down to Cozumel, and each time we have dived with that crew. They really know how to take care of us - and that is why we keep coming back! They have just the right mixture of professionalism and fun and pay attention to everyone's well-being on each dive. Their knowledge of the reef is amazing - they are always able to point out something new for us on each trip.
Again, thanks for coordinating our trip for us and we look forward to diving with We B Divin' again!
Sincerely,
David, Jenny, Jake and Luke Canik
---
Dear Judy,
We had a great week diving the week of March 20-25th. Carlos, Yasser and Luis were excellent. This was our first time ocean diving and first time in Cozumel, but it will not be our last. We came with the Canik family and this was the third time they have been diving with your boat and I can see why they keep returning. My husband and I had initial apprehension about diving, but Carlos and Yasser made us comfortable and our dives were so enjoyable.
Prior to each dive Carlos or Yasser explained our dives, what we would see, maximum depth, maximum time limit of dive and if we reached 700psi to let them know before going to 15-20 ft. rest stop for 3 minutes. On our first dive on Thursday Carlos noticed a diver much deeper than the rest us and he had to leave the group to go down and return Craig to the group. This occurred a second time on the same dive. From day one Carlos made it clear we were to stay together and it definitely appeared Craig thought the rules didn't apply to him. We really admire and support the way Carlos handled the situation. We had a great diving group. We were a diving team from Wisconsin, Michigan and Colorado. Many great memories were made during the week.
Thank you again for such a great week. We will be diving with you and your great group in the future.
Connie Winter
March 2011
---
Judy,
I wanted to share with you that Jaci, and I have just returned home from Cozumel, and we had an exceptional trip thanks to the three amigos that run your boat. We were worried at first as I had contracted some sinus problems just prior to leaving. Thankfully my Dr. didn't hold back and gave me the good stuff. Got to Cozumel on Wed. 3/16/11, didn't feel comfortable going Thurs. or Fri. or Sat. Sat. I rented a tank and did a shore dive only 20 ft deep, just to see if I could equalize and clear, then sat on the bottom for 30 min just to make sure no coughing jags, etc. All went good and we called Carlos for Sun. Normally we dive every other day as we have friends that don't dive and we try to be sociable. due to my not feeling right we dove 5 days straight, and actually Jaci and I enjoyed the experience more, probably due to the consistency, but we both thought we felt more comfortable. There was an incident on Thursday that I wanted to share with you. There had been a gentleman named Craig, I believe he was from Texas. He had been pushing the limits all week, and on this day Carlos had briefed us as usual he clearly stated the dive would be 80 ft. for 15 min then 60 ft for total 40 min. or 700 psi then raise to safety stop at 15 ft for 3 min. There was absolutely no misunderstanding on the dive plan. Once we got in the water I had a little problem clearing my left ear and I had to ascend a little bit I remember looking at my gauges and I had gone from 70 to 65 when my ear cleared. I started to descend again and I was watching my gauges when I noticed a diver off to my left that was way below me. at first I thought he was from a different group. As the dive progressed I realized he was with our group. Back on the boat Jaci and I were up on the bow, when we learned that Carlos had talked to Craig and looked at his gauges to verify depths and bottom times. Then told him he was thru for the day. I am telling you this because this is why we dive with you. When Tony had the boat and with this same crew it was safety first last and always. It is nice to see that this philosophy has continued. We took the 3 amigos to dinner on Friday night and I told them they are in charge on that boat and it is their responsibility to bring us all back safely. They should not feel bad about doing what they did they did the right thing. Diving is a great sport but it has limits that need to be respected. On behalf of Jaci and myself I look forward to diving with your company and the 3 amigos again and again in the future.
By the way we met several great people form Wisconsin on your boat, and in talking to them, we all agreed safety first. Your crew makes all our dives the best.
If you have any questions about this incident please feel free to contact me.
Thanks for a great experience,
Bill Raab
March 2011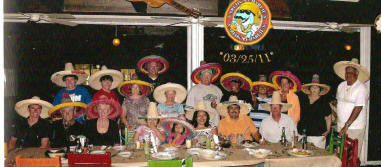 ---
Judy,

Just wanted to let you know that your crew in Cozumel took great care of us. We enjoyed wonderful weather and some great diving. Dolphins, sharks, turtles, rays...wow!
Please pass my thanks on to Carlos and the guys for a well-run operation. We'll definitely be back and I'll continue to spread the word about your operation.
Thanks again.
Jeff
February 07, 2011
---
Hi Judy,
My apologies that it has taken awhile to let you know that our dive experience was the best ever! It was such delight to have Yasser for dive master and see how wonderfully he has matured over the years. Certainly Luis and Carlos were great too. We have gone on many dives with Carlos in the past.
We'll be back and will surely recommend We B Divin' Cozumel to others.
Dorothy and Jerry
February 15, 2011
---
Judy,
Steve and I just returned from a wonderful vacation in Cozumel and are already looking forward to going back for another vacation. This was due in large part to Carlos and the crew. Our diving experience was outstanding, and we are having a difficult time relaying our gratitude and enthusiasm for the diving experience. As you know, I had to finish my certification in Cozumel and was apprehensive to say the least based upon my experience in San Diego with the ocean dives. Carlos was patient and calm, which made my experience pleasant. I was easily able to finish the certification because of Carlos. Our three days of ocean dives were outstanding and was an experience of a lifetime. We cannot wait to return to Cozumel to go diving with Carlos and the crew again. We are already recommending We B Divin to everyone we talk to about diving. Thank you for the wonderful communication before our vacation and the diving experience in Cozumel.
Steve & Teresa Staton
---
Hi Judy,
I just wanted to let you know we had a GREAT week diving with Yassir, Carlos & Louis. It seems like the guys are very happy with the new ownership.
I would like to thank you for putting towels on the boat and offering a fresh water rinse for our equipment at the end of the day. Those things are greatly appreciated. Perhaps you could get the boat a new ice chest? The current one just doesn't keep ice anymore! Thanks so much for a great week!
Kathy & Dusty Babitzke
---
Judy,
Thanks so much for taking such good care of Angie and Kyle! They had a great time. Angie said it was wonderful diving with Carlos and Kyle felt completely comfortable. She said she even saw someone on the dive boat that we dove with before. Great fun! Thank Carlos, it was great that he called them, gave them the extra push to dive again!
Bonnie Burton
---
Judy,
Just wanted to let you know that we had a wonderful time with the crew of Yucab III. Carlos and the rest of the crew did an excellent job with my little group. Safe, thorough pre-dive briefings, great underwater guidance/supervision, and lots of great guacamole topside!
We will definitely be back, perhaps as early as next fall.
Thanks,
Jeff
Flatland Divers, Inc.
---
Judy,

I want to extend my thanks to you and your Cozumel crew for making our recent trip a huge success. I dove with the guys when Tony Castillo had the company and they made me feel like I had reunited with old friends. Carlos particularly is so engaging, funny, and professional. As a law enforcement officer and former SWAT team member I have a great appreciation for attention to detail and safety. Watching your team work was like watching a finely oiled machine and was very confidence inspiring. All fun, until it is time for a pre-dive briefing, then the game face comes on. Once everyone knows the plan, it is off to enjoy the dive! We hope to go back again in just a few months and would not think of diving with anyone else. Kudos to you!
Warmly,

Andrew Hoffman and Anniken Iversen